Compost Makes Everything Green Again:
Dark, Rich, And Full Of Life
GreenBlenz Compost is a high quality compost used as a soil amendment or as a medium to grow plants. GreenBlenz contains the optimum blend of nutrients and organics to promote excellent plant growth.
GreenBlenz is a participant of the US Composting Council's Seal of Testing Assurance Program (STA) and is regularly analyzed for nutrient content, stability, and other permit required parameters to ensure compost quality.  The STA testing, labeling and information disclosure program is designed to give you the information you need to get the maximum benefit from the use of compost.  The process assures that testing is done properly and that the results are made available to any customer that requests them.
How is GreenBlenz Made?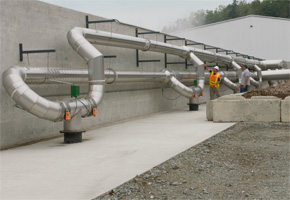 Organic feedstocks come fresh from local sources to our composting site east of Stanwood on Highway 532. We grind, mix and moisten these feedstocks to produce the perfect compost mix. Compost is initially stabilized using a state-of-the-art Aerated Static Pile (ASP) system.
Compost temperatures are constantly monitored in the ASP by a computerized system to ensure that proper environmental conditions are maintained at all times. Temperatures exceed 140 degrees Fahrenheit for weeks, killing weeds and pathogens, and rapidly stabilizing the materials.
After initial stabilization is achieved in the ASP, compost is further stabilized in an aerated mass bed composting system until it meets all regulatory requirements and is ready to be screened for your use.